Global Leadership Summit in Egypt
Global Leadership Summit in Egypt
I'm still so excited! It's been over a month now, and this post is way overdue!
On November 7 & 8, we had an amazing event that made up for any stress I had this year! After more than a year of preparation, we had our first Willow Creek Global Leadership Summit in the Middle East! It was an event that I've dreamed about way back in August of 2001, when I first attended a Summit at Willow. The first time I attended the summit, I said to myself, "I've never heard anything like this before! We've got to take this to Egypt and the Middle East!" I learned so much that day, it was overwhelming to me. I was working at Lake Avenue Church in Pasadena at the time and was struggling to learn about leadership and how to make technology a ministry that works for the Church and ministry.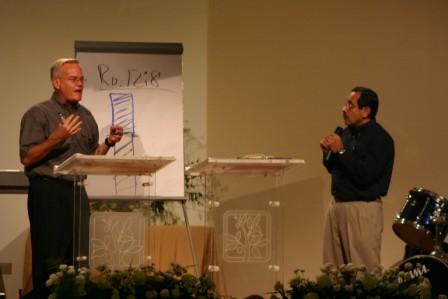 Growing up in Egypt, I never heard the teachings of leadership the way I heard them at Willow. I decided to make it commitment to attend the Summit each year, and haven't missed it since. Having the previlidge of working at Willow some 4 years later, I had the opportunity to meet the leaders of the Global Summit and share with them the vision of taking the Summit to Egypt. We started the Journey in the Summer of 2007, and in November 2008, we had 460 registered leaders from Egypt and other Arab countries.
We had the honor of Bill Hybels' presence, who through his humble spirit and his valuable leadership lessons, gave us 3 sessions that were outstanding. Bill Hybels is an amazing leader, he has a Jesus heart that just listens to people and learns about their situation. He delivers talks that make people learn why they were assigned by God to do His work in the Church. He makes you just want to go back and start serving right away and not waste any more time! He is very passionate about Christ and seeing the Church be the Hope of the World, he is very contagious and inspiring!
Preparing for the Summit took so much energy, but because God is good and is in control, He lead us to the success of the event. I'm so honored to have worked with the WCA staff, Willow volunteers and KDEC staff and volunteers who have given so much of their time, finances and energy to make this event a success!
I'm looking forward to next year where we can expand the opportunity to more people. Leadership is a valuable lesson and life to learn. People anywhere should be excited about learning how to lead with integrity and skills that can advance the church and advance the community and advance government.